Are you looking for a sewing machine packed with features that simplify your projects? Then you have come to the right place. Computerized sewing machines are easy to use and packed with features. They also come at many price-points so they don't have to cost you a fortune. These machines have changed sewing forever.
Unlike a manual machine, computerized machines contain small computers that control many motors that move the needle so that you can get more advanced stitching patterns. You can do this with the simple push of a button.
The computer also stores dozens or sometimes hundreds of stitching or embroidery patterns and many machines also have the ability to download other stitches and sewing patterns from the internet.
This is just scratching the surface. With these machines the possibilities are endless! Below you will find what we think are the best computerized sewing machines you can buy today.
| Model | Weight | # of Stitches | Auto Threader | |
| --- | --- | --- | --- | --- |
| Brother CS6000i | 13 pounds | 60 | Yes | |
| Singer 7258 | 19 pounds | 100 | Yes | |
| Singer 9960 | 20 pounds | 600 | Yes | |
| Janome 8077 | 20.5 pounds | 30 | Yes | |
| Janome Magnolia 7330 | 20.1 pounds | 30 | Yes | |
| Janome 7700 | 52.5 pounds | over 200 | Yes | |
Are Computerized Sewing Machines Suitable for Beginners?
One of the things that I love most about these sewing machines is how easy they are to use. Most include functions that make sewing a breeze. Auto-needle threading, auto-stitch tension, auto-reverse, speed controls, powerful feed dogs and so much more.
The only thing to keep in mind is if you beginner is very young or gets overwhelmed easily, a manual sewing machine will be more suitable. They have less features and will be far less overwhelming that the feature-rich computerized machines.
Below I review a number of sewing machines that I have had a chance to test and play with. There are so many great machines out there in this category right now that the choice of which one to purchase can be a little overwhelming. To help, I have sorted my reviews starting with my favorite value machine and ending with the most expensive machine. Enjoy!
Our Top 6 Computerized Sewing Machines
1. Brother CS6000i Digital Sewing Machine
If you are looking for an inexpensive machine, the Brother CS6000i is one of my favorites. In our opinion, the Brother CS6000i is the best computerized sewing machine in 2019. It is not only inexpensive, but has tons of features like the 60 built-in stitches, 7 button holes, variable speed control as well as many other accessories.
It may come with a lot of features, but is still a great machine for a beginner. If you want to learn more, I have written a more detailed review of it here. However, if you don't mind spending a bit more money or are a more avid user, then you are better off getting the Janome 8077 mentioned in the next review due to it's higher quality and ease of use.
2. Singer 7258 Stylist Computer Sewing Machine
The Singer Stylist 7258 is an award winning 100 stitch machine that is a perfect machine for beginners and intermediate users. This machine is also very inexpensive; around the same price as the also excellent Brother CS6000i. However, if you want a machine that you can grow into, then the Singer 7258 is a much better choice.
This machine is my first choice for those looking to get the best value for their money.
3. Janome 8077 Computerized Sewing Machine
The Janome 8077 is a perfect intermediate machine that is light, portable and runs very quiet. It comes with 30 stitches and six different button holes. This machine lives up to Janome's reputation of quality.
This sewing machine has just enough bells as whistles to help you grow, but not so many that you will be overwhelmed. It isn't just for the intermediate user either; a beginner could grow on this machine because of its ease of use. The 8077 is another nice computerized sewing machine that you really can't go wrong with. If you don't want a ton of bells and whistles or stitches and portability is important to you then this machine is an excellent choice.
4. Janome Magnolia 7330 Computerized Sewing Machine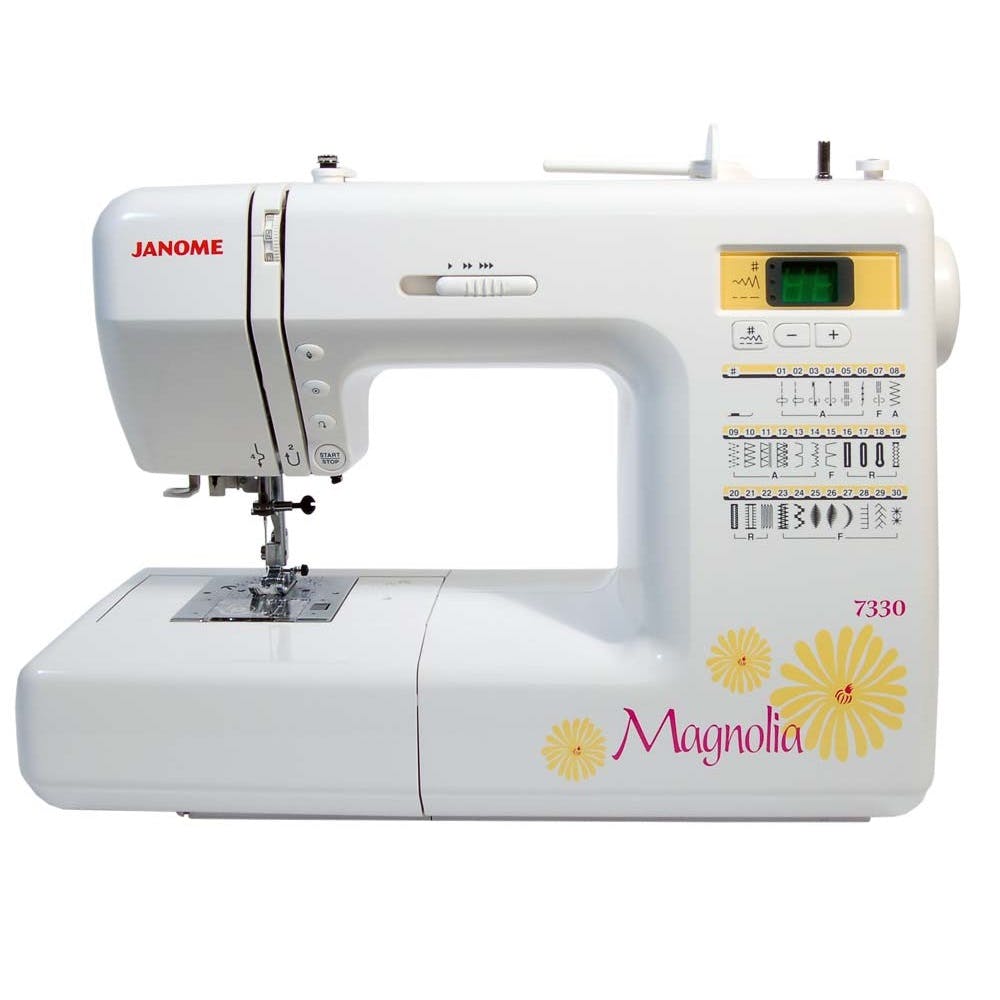 The Janome 7330 Magnolia is a step up from the 8077 reviewed earlier and is the most advanced sewing machine in Janome's Magnolia line. The Magnolia line is a great set of machines, made for beginners that are popular and are very high quality.
This machine is definitely a great option for beginners, but it is such a powerful, fast and reliable machine that it is suitable for intermediate users as well. It is also a really pretty machine that will be sure to catch your eye as you walk into the room. This is an amazing intermediate sewing machine that you will be sure to love. This is a machine I own and love. You can read my more in depth review here.
5. Singer 9960 Quantum Stylist Electronic Machine
The Singer Quantum Stylist 9960 is another really good sewing machine. It comes with 600 stitches, 13 button holes and 5 different fonts. One of the nicest things that I found about this machine is the size of the workspace. If you like to create quilts or work with larger sewing projects then you will enjoy the extra-wide extension table. Beginners will feel like professionals on this machine. It is easy to set up, with automatic threading and bobbin winding.
The sewing options available on the 9960 will have you finishing high quality sewing projects in no time. It runs also like a dream and is very solidly built. This is a great machine for those looking for a professional sewing machine, but don't want to break the bank.
6. Janome 7700 Sewing and Quilting Machine
If you are looking for the absolute best machine then look no further than the Janome 7700 QCP Sewing and Quilting Machine. This is my favorite machine and I really can't say enough good things about it. It comes with 250 different stitches, 33 button holes, 3 monogram fonts, has an 11 x 4.7 inch workspace and so much more!
I use this machine on a daily basis and am soooooo happy with my purchase.
You can read my full review of this machine here.